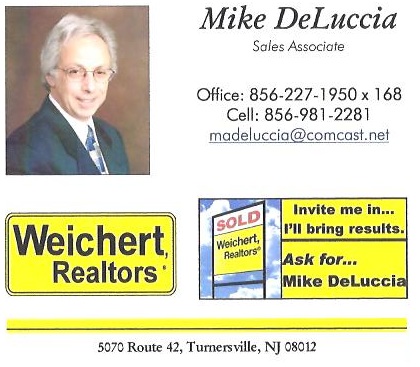 Michael DeLuccia
Licensed Real Estate Associate
Office:856-227-1950 X169
Cell: 856-981-2281
Dedicated, Outgoing, Knowledgeable and, most of all, Caring. Those words are used
to describe Michael DeLuccia by those who have known and worked with him.
I\/like's enthusiasm in his vocation as a real estate associate projects Excellency and
Action, the cornerstone of his success. As a real estate specialist, he has completed
countless hours of advanced studies in marketing, sales, real estate procedures and
real estate law. Mike is a proven professional in every way,
Awards and Professional Credentials:
Presidents Club - 2004
Ambassador Club - 2003, 2005, 2006, 2007
Circle of Excellence Award Winner - 2002
Member of Weicheits Executive Club every year since - 2002
Accredited Mentor
Member, Service One Association of Realtors
Member, New Jersey Association of Realtors
Member, National Association of Realtors
Member, New Jersey Multiple Listing Service
Successfully listing & selling real estate in the Tri-County area
High Percentage of personal referrals
Your Weichert real estate agent for life
I'M NEVER TOO BUSY TO SERVE YOU
Business Philosophy:
Dedicated to providing the best possible professional service in the real estate
industry today
Priorities include high degree of quality and control of successfully executed
sales
Accessibility and personal assistance in support of sales efforts
Leadership in sustaining market dominance and growth into new markets
Leadership in technology integration and local advertising and marketing
strategies
His untiring commitment to service has earned him a place among the top pro
ducers in the Washington Twp Office.